This recipe is from
Pinterest
(you can get the original recipe from
HERE
)
, and I would definitely say this is a pin win! The flavours came together nicely, it was simple enough to make, and it's healthy!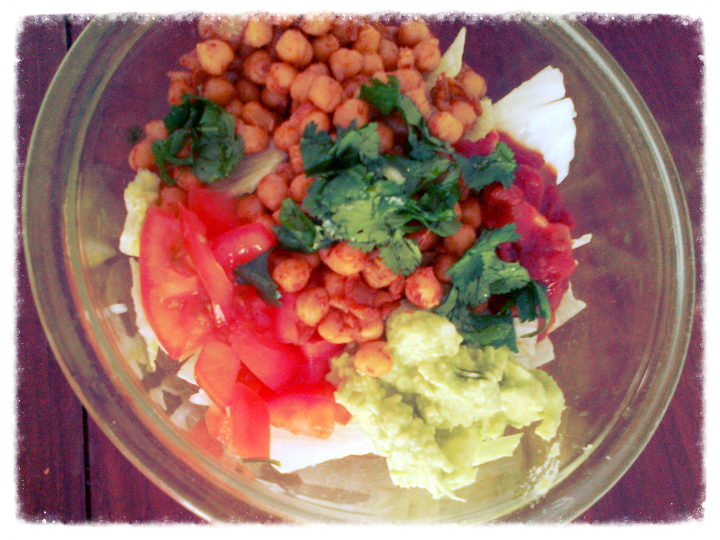 What you will need:
Taco "meat"
½ white onion, sliced
3 tablespoons water
1 cup cooked chickpeas
1 teaspoon taco seasoning mix
Guacamole
½ avocado flesh, mashed
1 tablespoon finely diced white onion
1 clove garlic, minced
1 tbsp finely chopped fresh cilantro
Juice from ½ lime
Sea salt and freshly ground pepper, to taste
Salad Ingredients
2 cups chopped romaine lettuce
1 tomato, chopped
2 tablespoons salsa
Add onions and water to a pan on medium-high heat for about 2-3 mins until the onions are softened. Then add chickpeas and taco seasoning and reduce heat to medium. Cook uncovered for another 2-3 minutes, until heated through.
Meanwhile, add guacamole ingredients to a small bowl and mash with a fork to combine. Set aside.
Pile all of the salad ingredients in a bowl. Top with guacamole and taco "meat".
Variations: The original recipe also called for corn chips, I did not add those, but feel free for that crunchy texture! Also, this recipe only makes for one (A big serving however).
POST BY MOMMY OLIVIA