We have been getting an excessive amount of snow this year, I mean we usually get a lot, but this has been ridiculous! and all that snow mixed with the -30 temperatures does not make for a pleasant day building snowmen, sledding or having snowballs fights. We occasionally get a day where it's only -1 outside, so of course we must soak up the "sun" as us Canadians do- and make a day of fun with hot chocolate and marshmallows of course!
Noah has had an odd obsession with frosty this year, he is so emotionally attached that when we are watching the movie he actually makes me turn it off right before Frosty melts, he says "no mama" and puts his hands around his eyes. It's the sweetest thing. So you must realize my excitement for his very first session of snowman building- a very big milestone in a toddlers life! Finally, a warmish day came while the snow is still here, so we ran outside to build Noah's very first Frosty.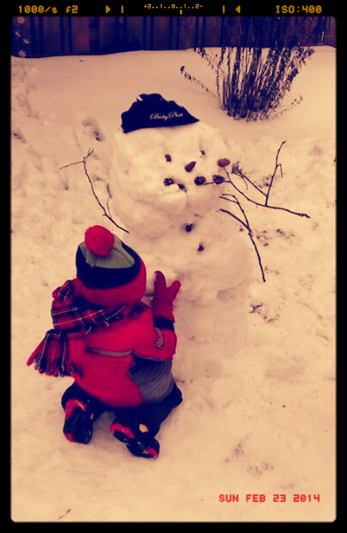 Don't forget to bundle up!
POST BY MOMMY OLIVIA