If you missed our Chop Challenge post from last week, you can recap here .
For this challenge the ingredients that were chosen at random are:
- Fresh Basil
- Pineapple
- French Baguette Bread
- Condensed Milk
Let's see what everyone created! Remember you can participate too, post you results on our Facebook page!!
Chef Olivia: Hawaiian pizza's with Panko encrusted chicken on a toasted baguette
What I used:
- 1 boneless chicken breast- chopped in small strips
- 6 fresh basil leaves
- 1 can of
diced Hunts garlic tomatoes
- 1 baguette
- 1 cup of Panko bread crumbs
- 1 can of condensed milk
- 1 cup of olive oil
- freshly grated parmesan cheese
- diced pineapple
- salt and pepper
Sauce:
In a small pot on medium heat add in your diced tomatoes, about 4 leaves of fresh basil chopped finely and salt and pepper to taste. Let simmer for about half hour.
Chicken:
Heat you frying pan on medium-high heat. Dip the chicken in the condensed milk (shaking of excess) then covered in Panko bread crumbs and put in the frying pan (about 1-2 mins each side- keep an eye so it doesn't burn!). Once they are cooked sprinkle with salt and put aside.
Assemble:
Heat oven to 350. Slice your bread into slices (just less than an inch) and line them up on a baking sheet. Then, pile on some of the tomato sauce, sprinkle with the parmesan, then add a slice of chicken and 2 pineapple slices, top with a bit more cheese. Repeat until all your slices of bread are topped. Throw in the oven for about 7 minutes. When it comes out you can sprinkle with the rest of the chopped basil.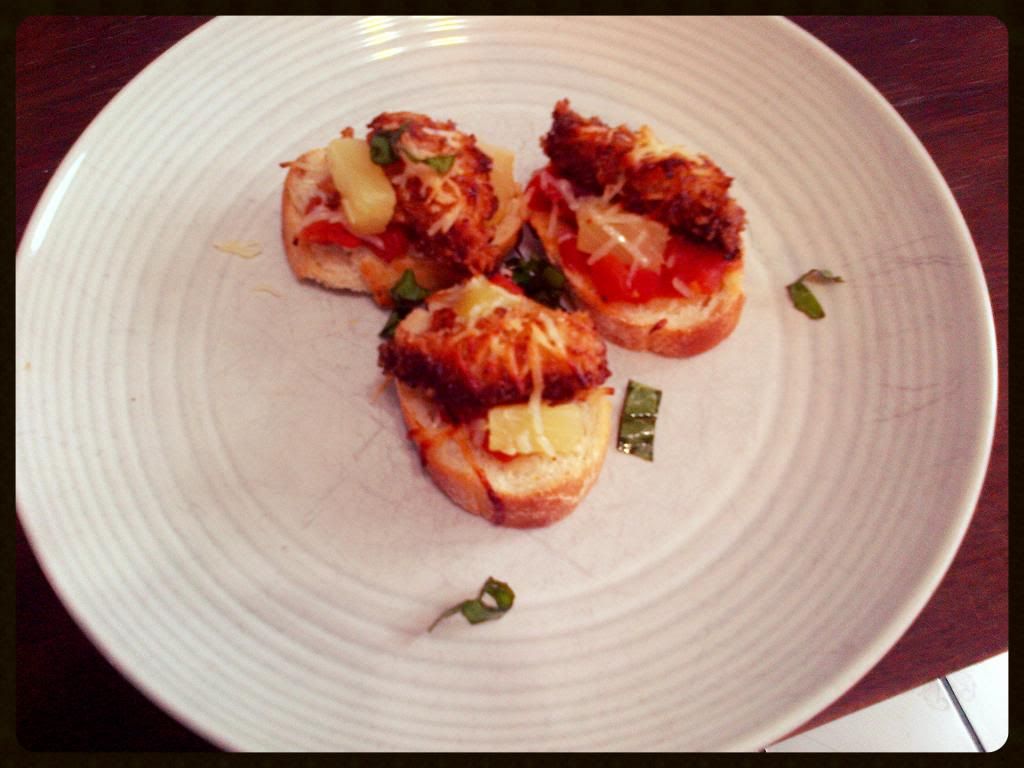 These turned out absolutely amazing! The sweetness of the condensed milk complemented the pineapple, everything just married together so beautifully! Everyone in this house tried them, and then ate some more! They were just too good to stop eating. I will definitely make these again. If you are going to make these, don't skimp on the ingredients, make sure it's panko bread crumbs and real grate-yourself parmesan. You will not be disappointed!
Chef Jenn: Baked French Toast Casserole with Pineapple and Basil Syrup
I actually had a lot of fun with this weeks ingredients and my recipe in general. I had an idea of what I wanted to do (a french toast casserole) but I mostly winged it with the recipe. I probably went through 4 pages in my notebook with all my recalculations and substitutions and about halfway through making it I was kinda like "um... I don't think this is going to taste as good as I hoped...", (mostly because the basil sugar is bright green!) but I was wrong. It turned out better. If you like pineapple upside down cake, you'll love this. All that was missing was a dollop of whipped cream on top. That said, I wouldn't serve this at breakfast, even though french toast is thought of as a breakfast/brunch food. To me, it's more of a dessert. A very, very delicious dessert. Here's the recipe!
For the french toast:
8 1" slices french bread (I made it with the crusts on, but when I make it again I'll be removing them)
1 cup condensed milk
1/2 cup milk
2 tsp basil sugar (recipe below)
1 tsp vanilla
1 tsp cinnamon
4 eggs
For the basil sugar:
1 handful fresh basil
1 cup white sugar
For the topping and syrup:
1 ripe pineapple, cut into small chunks
2 tbsp butter
2 tbsp brown sugar
1/2 cup + 2 tbsp basil sugar
1 tsp vanilla
1/2 cup water
1. First, the basil sugar. Chop your handful of basil leaves as small as you can. Somehow I don't own a food processor (!!!) but if you do, feel free to buzz it in there. Combine sugar and basil in a bowl, mixing and pressing with a spoon.
Pour that back into your food processor (or blender, in my case) and pulse until everything is green. Pour back into bowl, cover and set aside.
2.. Grease a 9x13 casserole dish with butter. Add slices of bread.
3. To a large bowl add condensed milk, milk, basil sugar, vanilla, cinnamon, and eggs. Beat until frothy and doubled in volume. I used the whisk attachment on my hand mixer and it took a few minutes. Pour the mixture over your bread.
4. Cover and just shove it in the fridge for at least a few hours so the bread can soak up the milk/egg mixture really well. Mine was in there for about 4 hours since my oven was occupied with ribs.
5. When you're ready to go (in my case, after you've finished a plate full of delicious, delicious ribs) preheat your oven to 350. Uncover casserole dish and throw it on in there. It's going to bake for 40 minutes total.
6. While the french toast is doing it's thing in the oven, melt 1 tbsp butter in a pan over low heat. Add 2 tbsp brown sugar and 2 tbsp basil sugar, and stir until melted. Add your pineapple, and continue stirring occasionally. After a few minutes you'll notice a lot more liquid in the pan, don't drain it! That's the pineapple releasing it's juices and you want it to reduce to a syrupy thickness. When it's reached that point, carefully spoon over the french toast and return to the oven. WARNING: That stuff is like lava. DO NOT try to grab a piece of pineapple like I did and be careful not to drip any of the syrup onto your skin. Hurts like a mother and I'm pretty sure my tongue is missing a few hundred tastebuds.
7. Using that same pan, still over low, melt 1 tbsp butter. Add 1/2 cup of basil sugar and 1/2 cup of water. Let it come to a boil, stirring occasionally until it's thickened to a syrup. By this time, you should have about 5 minutes left of bake time. Pour carefully (remember, lava!) over french toast. Bake for that last 5 minutes, and you're ready to dive in!
Chef Melissa: Grilled Pineapple and Ham on a Fresh Baguette with Sweet & Spicy Basil Sauce
When I found out that pineapple was on the list I knew I would love to grill it. It turns so sweet and delicious. But the others had me a little lost. Once I decided on a sandwich I knew I could pull it off.
First I sliced fresh pineapple into slices then dipped them into the condensed milk. Once they were coated thinly I threw them onto a pan with a little olive oil drizzled so they would not stick as bad. I grilled them about 6 minutes per side.
I used a bit more condensed milk in the sauce which made it very sweet. I chopped fresh basil and crushed pineapple and added that to the milk. Now it was in need of bringing down the sweet. I chopped a little of jalapeño pepper and some vinegar and seasoned it with some salt and pepper. I have to admit, it was a pretty good sauce for a sandwich!
Put it all on a 1/4 of a baguette cut down the middle, added the pineapple, old fashioned sliced ham and the sweet and spicy basil sauce. Soo good! I think I just may make this again sometime! I loved how the basil made it taste fresh as well as having the kick from the jalapeño.


We can't wait to see what you all have made! Post it on our Facebook page to be featured on the blog next week!