This recipe idea came from Pinterest of course. But it's so easy to do. You can either use a store bought cake mix or homemade... whichever you choose just make sure it's white cake mix!
What you will need:
- White cake batter (store bought or homemade)
- orange and yellow food colouring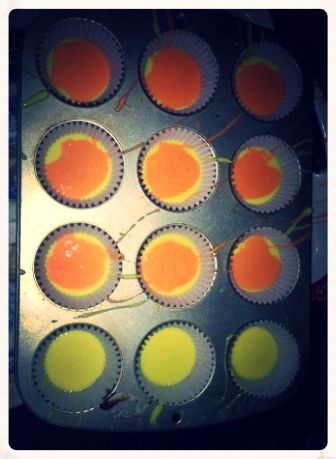 Make the batter from the directions on the box, once done separate into 2 bowls, add orange food colouring to one and bright yellow to the other. Now you want to make sure your colors stand out so make sure there nice and bright- may need a couple extra drops of colouring!
Line your cupcake tins with cupcake liners, then first add a scoop of the yellow batter, then plop the orange on top of it, fill about half way or 3/4. then bake with the directions on the box, once you take a bite it will look just like a candy corn! Be sure to use white icing to complete the look :)
Definitely a crowd pleaser, perfect for Halloween!!!