This soup is so delicious and comforting on a cold fall evening. It brings a world of flavour to your taste buds, every bite better than the last! This recipe is definitely a keeper!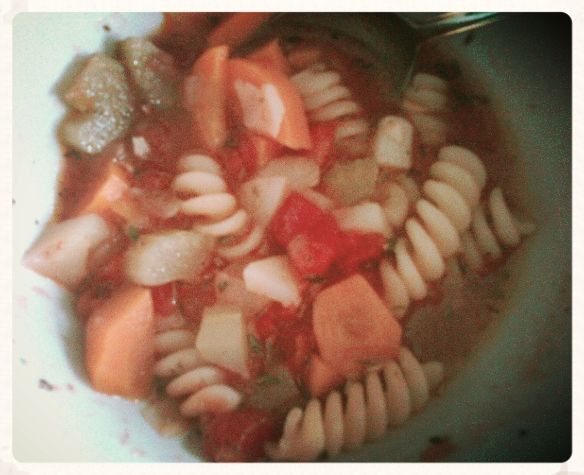 What you will need:
- 2 tbsp olive oil
- 3 medium sized carrots (peeled and diced)
- 1 potato (peeled and diced)
- 1-2 celery stalks (chopped)
- 1 medium onion (diced)
- 3 cloves garlic (minced)
- 1 box of vegetable stock (or chicken stock)
- 1 can of diced tomatoes
- 4-5 sprigs of fresh thyme
- salt and pepper to taste
- 1 cup of noodles (any kind)
In a large pot, add the olive oil and turn heat on medium. Throw in carrots, potato, onion, and celery, sauté for about 7 mins (until the vegetables are about 1/2 way cooked). Add in the garlic, and take the thyme needles off 1 sprig and throw in the pot- sauté for another minute. Season with Salt and Pepper.
Pour in the vegetable stock and the tomatoes and about 2-3 sprigs of thyme (leave on the stem). Bring to a boil, then simmer for 15-20 mins (veggies should be almost cooked at this point)
Add in the noodles, cook for about 10 more minutes (until everything is cooked).
Enjoy!