Here are our results for week threes Chopped 3 Mommies Style.
Mystery ingredients for this round were:
Coffee, Banana, Sugar, Egg.
Two of us mommies had the same idea to make a coffee flavoured syrup to complete our dishes!
We all created a dessert! Check them all out below.
Chef Olivia: Elevated Banana Split: With Deep-Fried Bananas and Coffee Whipped Topping
For the deep-fried banana:
- 1 Banana
- 2 tbsp milk
- 1 tsp oil + extra oil for frying
- 1 tbsp sugar
- 1 egg
- 2 tsp flour
For the Whipped topping:
- 3 tbsp cool whip
- 1 tsp of coffee
- 1/2 tsp cinnamon
Deep-Fried Banana:
Heat a small sauce pan with the bottom covered in oil on medium high heat. In a mixing bowl beat the milk, egg and oil for about a minute, then mix in the flour and sugar until smooth. Slice a banana right down the middle and dip in the batter, fry in pan turning the banana until all sides are golden brown (about 6 minutes total) Sprinkle with sugar when they are done.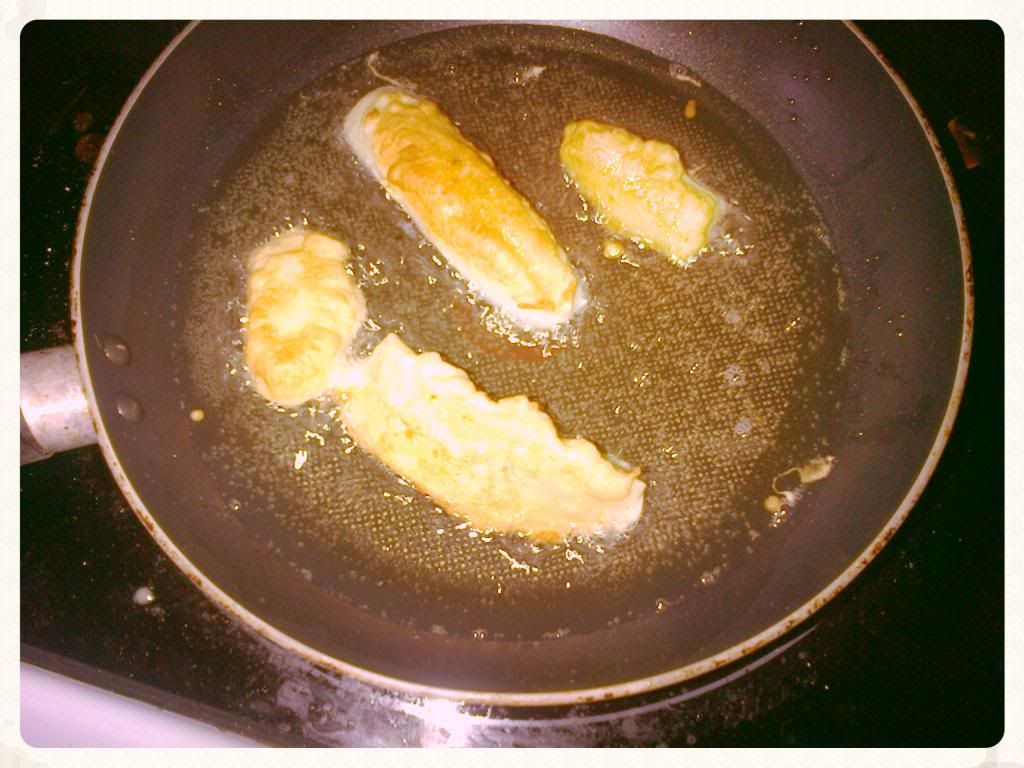 Whipped topping:
Mix all ingredients together until combined.
Then serve all components in a bowl (ice cream first) and top with a pile of the whipped topping.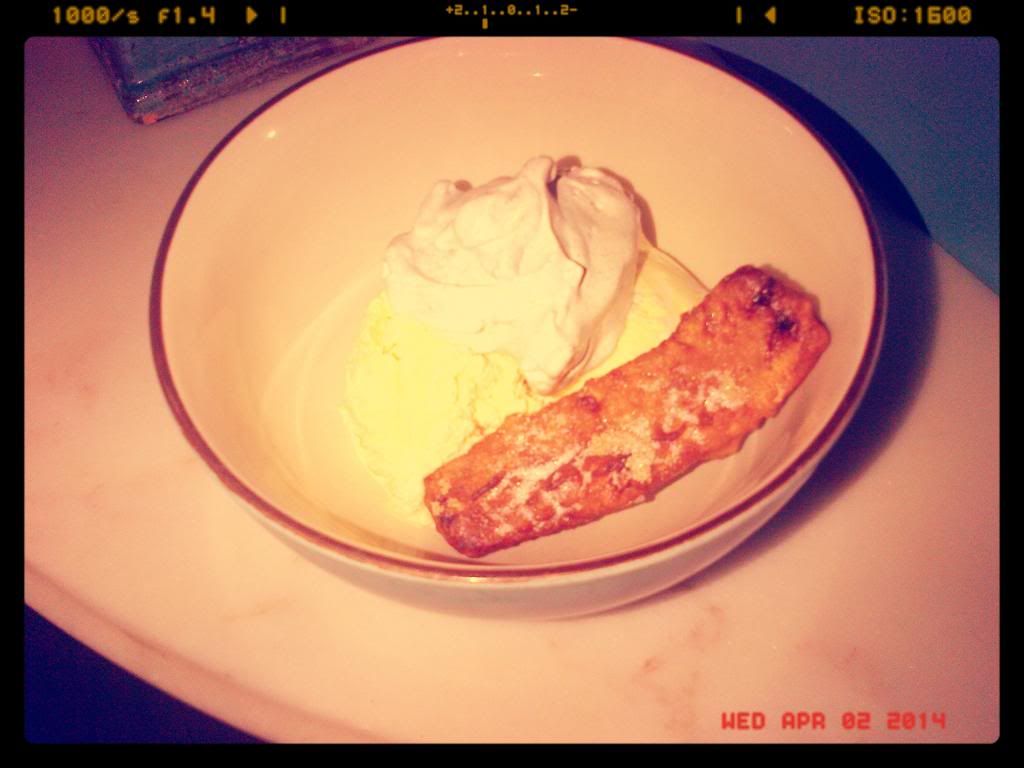 The bananas might not look like the most appetizing thing in the entire world, but this dish was surprisingly good. I love the combination of the warm banana and the cold ice-cream and the whipped topping, they all came together like a harmony. If you have a toddler at home, make them this they will fall in love I promise!
Chef Melissa: German Pancake with Bananas Topped with Coffee Syrup
To make the German Pancake:
3 eggs
1/2 cup milk
2 tsp vanilla
dash of salt
1/2 cup flour
dash of cinnamon
1 large spoonful of butter
Mix the first four ingredients together with a whisk then add the flour and cinnamon. While you do that, put the butter into a bake dish and place in the oven at 450. Once it melts, pour in your batter. Bake for about 15 minutes.
It puff up all crazy like. Once you take it out of the oven, it flops down so do not worry.
To make the Banana topping:
Slice up 2 1/2 bananas (give the other half to the toddlers attacking your leg for a 'nanas') place in a fry pan over medium heat and sprinkle some white sugar on top. Cook for about 3-5 minutes or until they mush up and smell like campfire bananas.
To make the coffee syrup:
1/2 cup very strong brewed coffee
1/2 cup of white sugar
Splash of vanilla extract
Place them in a pot and bring to a boil over med-high heat. When it boils, lower to a simmer for around a half hour or until its nice and thick. Add a splash of vanilla extract at the end to bring all the flavours together.
Spread the bananas onto the pancake then drizzle with the coffee syrup and serve.
It was incredible! I will make this over and over again for sure! The German Pancake seems like it will be very welcoming to many different flavours. Imagine cinnamon and a little lemon juice? Or Nutella and banana?! Oh My!!
Chef Jenn:
Banana Pudding with Coffee Syrup
For this weeks chopped, we kept it simple. Sometimes the simplest ingredients make the most delicious dish, and this one proved that theory to me. Creamy vanilla pudding, ripe bananas, and a sweet coffee syrup come together to make a rich, layered dessert. Here's my twist on an old classic.
For the Pudding:
1 cup sugar
3 eggs, beaten
A dash of salt
2 tbsp cornstarch
2 cups milk
1 tsp vanilla
1. Mix together sugar and eggs in large bowl. Add salt, cornstarch, and milk.
2. Pour into a pot and bring to a boil over medium high heat, stirring constantly. Cook until thickened.
3. Remove from heat, add vanilla and stir well.
4. Chill in airtight container in fridge.
For the Syrup:
2 cups coffee
2 cups sugar
1. Combine sugar and coffee in a pot and bring to a boil, stirring constantly to dissolve sugar.
2. Lower heat and simmer until it has reached your desired thickness (it took about 20 minutes for me, but this is variable depending on temperature used and how thick/thin you want your syrup)
3. Remove from heat and allow to cool in pot, then pour into container (I used a mason jar) and store in the fridge.
Assembly:
Once pudding and syrup are chilled, slice bananas. Layer pudding, then bananas, then syrup twice over in serving dish. I wish I could have found my glass ice cream bowls but alas, I could not. So I used a brandy glass because I'm creative like that. Top with a dollop of whipped cream if desired, and serve!
This round was a very sweet and flavourful round!
What would you create with coffee, bananas, sugar and eggs?
Show us on our Facebook Page and we feature it on our blog!