I found this recipe a few years ago and have fallen in love ever since! Although mine I did slightly different (I browned my meat and cooked the rice first, I only used the juice from the diced tomatoes, and instead of using tomato juice I used a no name tomato pasta sauce (and added a bit of water). The Sauerkraut mixed with the cabbage rolls give it a whole new flavour, it's so delicious!!! I suggest you all give it a try :)
What you will need:
- 1lb lean ground beef or pork
- 1 cup of uncooked rice (I cooked mine before mixing everything)
- 1 medium onion- chopped
- 1 clove garlic- minced
- 1/2 tsp pepper
- 1/2 tsp garlic powder
- 1 tsp salt
- 1 tsp paprika
- 1 can of tomato juice (I used 1 can of no name pasta sauce)
- 1 can (28 ounces) Sauerkraut
- 1 head of cabbage
Combine beef/pork, rice, onions, garlic, pepper, garlic powder, salt and paprika in large bowl. (If you chose to cook your meat and rice first- cook them and then mix with rest of ingredients)
Steam heads of cabbage until leaves remove easily (about 5 minutes each in microwave along with 1/2 cup water, covered with plastic wrap works well) Take handfuls of meat mixture and roll up in cabbage leaves.
After covering the bottom of the pan, top with half of the sauerkraut and half of the tomatoes. Place rolls in roasting pan. Repeat with second layer. Pour tomato juice over top. Cover and bake 2 1/2 hours at 350 degrees. (If you have already cooked the rice and meat cook for 1 1/2- 2 hours)
This recipe came from
HERE
.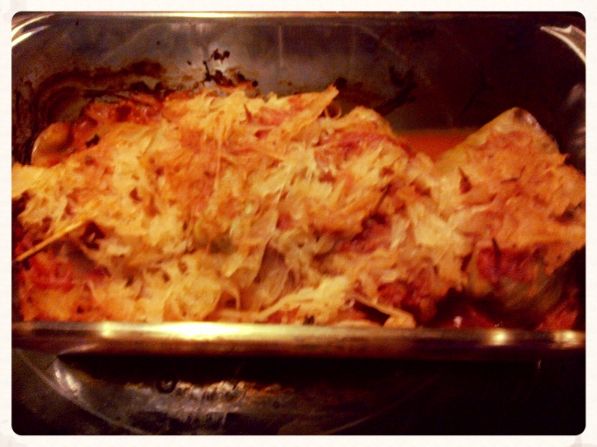 POST BY MOMMY OLIVIA